BE AWARE...
CARROLL COUNTY, GA
CHAMBERS COUNTY, AL
CLEBURNE COUNTY, AL
COWETA COUNTY, GA
FAYETTE COUNTY, GA
HARRIS COUNTY, GA
HEARD COUNTY, GA
MERIWETHER COUNTY, GA
RANDOLPH COUNTY, AL
TROUP COUNTY, GA
More content is on the way as we expand our services, including preparedness information and a directory of emergency contacts and disaster recovery services.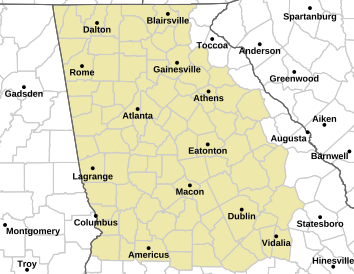 This site will always be free to its users. However, it is run by an individual, not a large company. If you find our alert services on Facebook, Twitter, and this site helpful, please consider a small donation to help offset our operating costs...
Click LIKE below to get instant severe weather warnings on Facebook...
Follow us on Twitter for instant severe weather alerts in your timeline...